Dubai, September: Barakat, the UAE's homegrown ultra-fresh juice maker, encouraged customers to turn its bottles and 'Read the Label' to highlight that its juices are made from fresh fruits, and juiced daily, and raise consumer awareness about what goes into the food and drinks we buy each day.
As part of the one-day-only 'Read the Label' activity, the company removed images and text, including its logo, from the labels on the front of its juice bottles at the flagship Al Aweer store, leaving only the most important facts at the back – the ingredients, shelf life and nutritional information.
Barakat produces a wide range of fresh juices and smoothies from 100% fresh fruits and vegetables that are juiced daily. Containing no additives or preservatives and completely unprocessed, Barakat's bottled juices are good for three days when stored in chilled temperature conditions.
Barakat's 'Read the Label' campaign contained a powerful message that represents a growing consumer mindset to lead a healthy lifestyle through better food choices. Customers of all ages are now more discerning and knowledgeable about food than ever before, particularly when it comes to avoiding processed food, preservatives, and additives.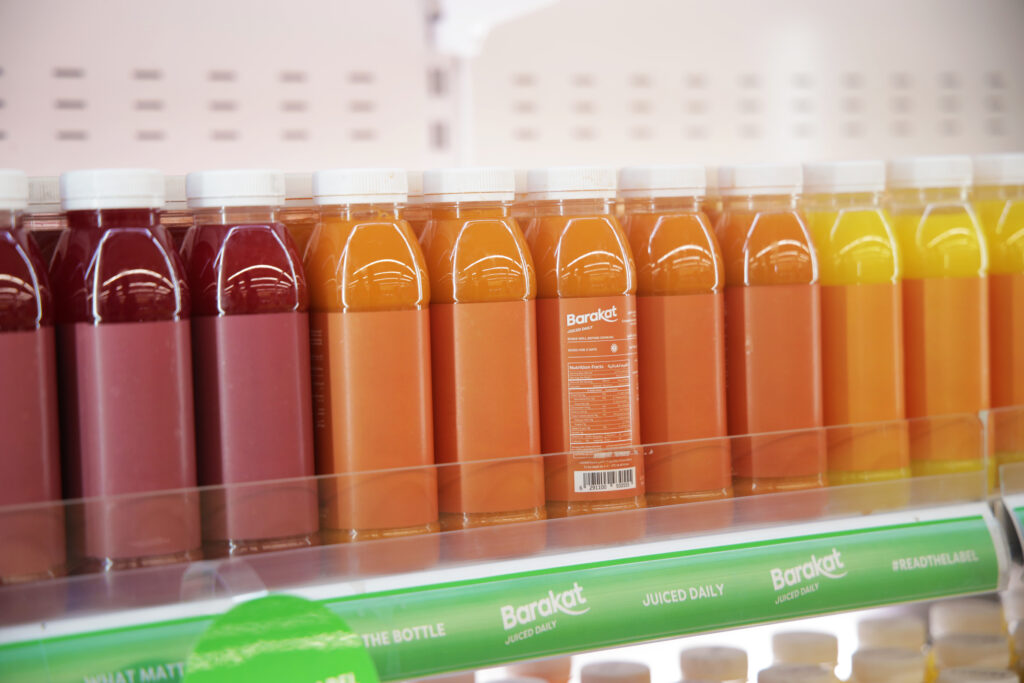 Only by reading the labels on food items can shoppers discover for themselves that many products perceived as 'fresh' such as juices, can be in fact be re-engineered and contain artificial sweeteners or flavours.
Rashid Mohamed Alabbar, Board Member at Barakat, said: "One of the pre-requisites for a healthy lifestyle is to be aware and be sure of what's in your food – hence we encourage consumers to 'Read the Label' of all products and decide for themselves. Barakat juices contain nothing you cannot pronounce – just fresh fruit. Our brand truth is right at the front of the label, let the choice be yours." Barakat, which has been serving the best of fresh since 1976, delivers freshly squeezed juices to consumers at their doorstep via the Barakat app. The juices are also available across supermarkets in the UAE. The freshness of Barakat's juices is highlighted by their shelf life of three days, the same as it is for juice freshly squeezed at home.
About Barakat:
Established in 1976, Barakat is a leading producer and supplier of a diverse range of fresh produce as well as manufactured fresh food and beverages to premium hotels, cafés and restaurants, retailers, and major catering companies in the UAE. With two state-of-the-art manufacturing facilities, 350 refrigerated vehicles, multiple distribution centres across the UAE and 1500+ passionate employees, Barakat has decades of experience in sustaining the vibrant international and local sourcing and distribution network for high quality fresh produce from the best farms within the UAE and across the world.
Barakat's products are available across all of the leading hypermarkets and supermarkets, convenience stores as well as online at the brand's own fresh eCommerce platform, the Barakat app. The brand also has a retail footprint in key locations across the UAE.
Learn more by visiting: https://barakatgroup.ae and following Barakat on Facebook, Twitter, LinkedIn and Instagram.
For any media enquiries, please contact the House of Comms PR team on: